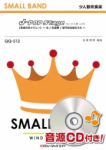 Rob Grice has over-achieved in this soaring new work, destined to be a "must-play" composition around the world! A middle school band director himself, Rob's music brings out the absolute best in young musicians who respond to inspiring music. This piece uses an array of colorful percussion sounds and modal harmonies to create an exciting southwestern sound palate. The excitement builds to a dynamic close to an incredibly evocative and memorable work for young band.
The following options can be choosen to configure this product:
Please note that licensed versions are only allowed to be performed by the licensee printed on score and parts!