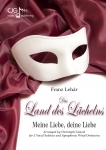 Baska j' Malo Selo is a Croatian folk melody that uses simple rhythms and a range suitable for beginning players. The melody flows throughout the ensemble and the use of colorful percussion helps to propel this work along.
The following options can be choosen to configure this product:
Please note that licensed versions are only allowed to be performed by the licensee printed on score and parts!