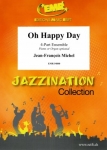 In May 2019, a new era of Japan Reiwa began. Ascent was composed to celebrate a new era as the last composition of previous Heisei era. The work opens with a bold fanfare with the main theme in the saxophones and horns. This theme is repeated throughout the piece in several forms. After a slow middle section, the piece progresses to a powerful ending with a solo gong which hails the beginning of new era.
The following options can be choosen to configure this product:
Please note that licensed versions are only allowed to be performed by the licensee printed on score and parts!