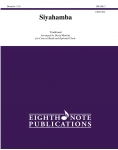 Rising out of a mysterioso opening, this work goes boldly forth into an exciting main theme, propelled by a rhythmic low brass ostinato. Contrasting sections featuring beautiful melodies and countermelodies compliment and enhance the main theme. Young Japanese composer Wada has here created an exceptionally appealing work that is musically rewarding and fun to play!
The following options can be choosen to configure this product:
Please note that licensed versions are only allowed to be performed by the licensee printed on score and parts!
Customers who bought this product also bought the following products:

available | shipping in 1-3 days

available | shipping in 4-10 day