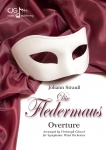 Using the style of Canadian folk songs from the East Coast and the story telling features of Newfoundland, A Fisherman s Tale is a piece about a trip out into the ocean. The piece opens with the solemn, chorale-like movement Farewell, as the fisherman leaves his home and family to begin the excursion, and closes with Return to Harbour, an up tempo movement representing the worker s successful homecoming.
The following options can be choosen to configure this product:
Please note that licensed versions are only allowed to be performed by the licensee printed on score and parts!
Customers who bought this product also bought the following products: