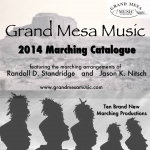 Composer:
Humperdinck, Engelbert
Arranger:
Günzel, Christoph
Setting:
Concert Band • 2 Vocal Soloists: Gretel (Soprano) - Hänsel (Mezzo Soprano) - ad. lib.
Genre:
Ouvertüre • Opera • Romantik • Transcriptions
In the present arrangement, alto clarinet, double bass clarinet, bass saxophone and violoncello are optional. The 2nd oboe also changes to English horn.
We are happy to transpose or edit this transcription according to your wishes or adapt it to your ensemble. Please contact us at info@cjg-music.com
The complete opera can be ordered at 218.021.01-100.
The following options can be choosen to configure this product:
Finish Score:
DinA4 (printed)
DinA3 (printed) +40,00 EUR
Please note that licensed versions are only allowed to be performed by the licensee printed on score and parts!