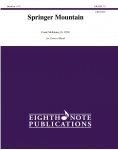 Composer:
Rossini, Gioachino
Arranger:
Bobrowitz, David
The opera William Tell premiered in 1829 and was the last of Rossini's 39 operas. The fast section of the Overture has long been accepted as the Lone Ranger Theme, and has also been utilized in many commercials and cartoons. Arranger Bobrowitz has created an exciting and authentic sounding arrangement that is easily playable at a grade 2+ level. What fun for players and audience to hear this classic as the closing number on any band concert! A standing ovation awaits your group as the audience will be stunned that your band sounds like the real deal William Tell Overture! Hi Ho Silver!
The following options can be choosen to configure this product:
Please note that licensed versions are only allowed to be performed by the licensee printed on score and parts!
Customers who bought this product also bought the following products: