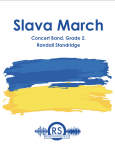 Setting:
Flexible Setting
You find yourself at the door of a large mansion. It's nighttime, and you don't remember how you got here, or even why you're at this house in the first place. You step inside to see a long, carpeted hallway, with many large portraits covering the walls. You don't see or hear anyone, but you can feel that there's a party going on somewhere. As you walk down the hallway, you think you might hear music, and it's getting louder. You open the door at the end of the hall, and step inside the ballroom...
The following options can be choosen to configure this product:
Finish Score:
DinA4 (printed)
Finish Parts:
PDF (licensed)
Please note that licensed versions are only allowed to be performed by the licensee printed on score and parts!
Customers who bought this product also bought the following products: