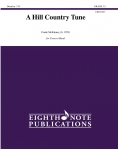 Shutter Speed represents the concepts of movement, quickness, light and shadow. A clever (and slightly shifting) syncopated rhythmic pulse propels the piece which is juxtaposed with the melodic material which is played by a variety of players from flute right down to tuba. Colorful percussion and great use of dynamic contrast make this an excellent choice for concert or contest use.
The following options can be choosen to configure this product:
Finish:
PDF (licensed)
printed
Please note that licensed versions are only allowed to be performed by the licensee printed on score and parts!