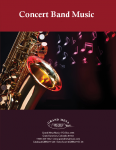 Composer:
Gibbons, Orlando
Arranger:
Singleton, Kenneth
Genre:
Barock & Renaissance • Konzertstück
Many composers of the early 17th century produced both religious and secular works ("sacred and profane"), but none did it better than Orlando Gibbons. For this set of miniature masterpieces, Ken Singleton has selected one of the most beautiful English anthems ("O Lord, Increase My Faith") and one of the most popular of all English Madrigals ("The Silver Swan").
The following options can be choosen to configure this product:
Please note that licensed versions are only allowed to be performed by the licensee printed on score and parts!
Customers who bought this product also bought the following products: