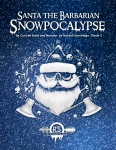 Rise of the Phoenix is a bold overture with some unique and colorful sounds. After a short introduction, it is set in three main sections: The first part - a build up of short rhythmic figures using the pentatonic scale. This pays homage to the ancient Chinese roots of the phoenix legend. The second section is smooth and lyrical in nature providing an opportunity to showoff an oboist (cued in other voices as well). The fire is felt in the third section as a shifting 7/8 rhythm starts the build to a new soaring phoenix theme on top of some driving lines in the low woodwinds and brass.
The following options can be choosen to configure this product:
PDF or Print Edition:
PDF (licensed) -3,00 EUR
Print Edition
Please note that licensed versions are only allowed to be performed by the licensee printed on score and parts!
Customers who bought this product also bought the following products: