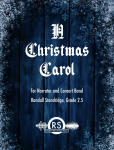 Composer:
Levowitz, Adam B.
This piece features a 7/8 twist on a traditional Greek folk dance depiciting the Cyclops, the one eyed giant from Greek mythology. The dance section in the middle is bookended with dark episodes depicting setting the scene and mood for the Island of the Cyclops.
The following options can be choosen to configure this product:
Finish:
PDF (licensed)
printed
Please note that licensed versions are only allowed to be performed by the licensee printed on score and parts!