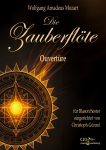 Scotland's Loch Ness may have the fame as far as lake monsters go but, for many monster searchers, Ogopogo — a creature said to lurk in Canada's Lake Okanagan (in British Columbia) — is most likely the best documented of all lake monsters. The Mystery of Ogopogo is a musical representation of the Ogopogo creature and features the low brass and wind instruments and is a great opportunity for students to learn and practice the different articulations and dynamics.
The following options can be choosen to configure this product:
Please note that licensed versions are only allowed to be performed by the licensee printed on score and parts!