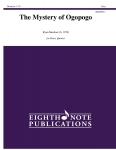 So who doesn't like playing duets? Especially fun ones. Please find printed upon these pages a handful of easy duets to while away the time. A varied assortment of styles is offered for your merriment. Just add a friend and you're off - no batteries required. No excuses. Just Duet!!
The following options can be choosen to configure this product:
Please note that licensed versions are only allowed to be performed by the licensee printed on score and parts!
Customers who bought this product also bought the following products: