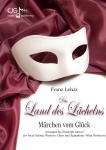 The Haunting of Keg Mansion opens by setting up the chilling sensation of a haunted mansion: dark harmonies and powerful dynamics. The main melody is quick and fidgety, much like that of a mischievous presence. The haunting setting continues with the striking chords in the middle contrasting section of the piece.
The following options can be choosen to configure this product:
Please note that licensed versions are only allowed to be performed by the licensee printed on score and parts!