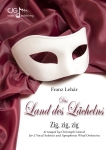 Composer:
McKinney, Frank
This lively composition ingeniously combines three charming melodies into a unique and colorful delight. Dance-like in nature, the interwoven tunes seamlessly glide back and forth between the keys of B-flat and E-flat, with each section having something fun to play. The light style and crisp energy of the piece would make The Happy Camper an exciting selection for your next concert program.
The following options can be choosen to configure this product:
Please note that licensed versions are only allowed to be performed by the licensee printed on score and parts!