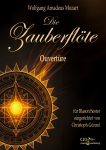 Composer:
Händel, Georg Friedrich
Setting:
Concert Band • Choir (opt.)
Handel's most frequently performed and most famous oratorio is probably best known for the famous Hallelujah. The Hallelujah is the grand chorus that caused the King to rise from his seat and as all good subjects, the entire audience rose with him. This tradition holds true even today reminding us of the great beginnings of this powerful music. This arrangement, for band and optional choir, has been lowered a tone from the original into C concert.
The following options can be choosen to configure this product:
Please note that licensed versions are only allowed to be performed by the licensee printed on score and parts!
Customers who bought this product also bought the following products: