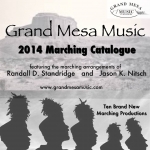 Type of Product:
Full Score • Stimmensatz
From the blockbuster movie franchise, it's always time to bust some ghosts at Halloween or any time of the year. Utilizing introductory accidentals, a dal segno with a coda, and the flexibility required to play and perform the vocals, there's plenty of teaching in this infectious tune. The familiarity of this tune is a quick fit for every beginning band and the vocals punctuate the energy. Who ya gonna call? (2:00)
The following options can be choosen to configure this product:
Please note that licensed versions are only allowed to be performed by the licensee printed on score and parts!
Customers who bought this product also bought the following products: