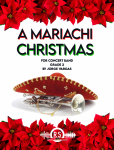 Fanfare and Festive Hymn uses only the first six notes of the Bb major scale making the piece accessible in the first year of study. The forceful fanfare leads to a lyrical theme, and ends with a fanfare theme again.
The following options can be choosen to configure this product:
PDF or Print Edition:
PDF (licensed) -2,00 EUR
Print Edition
Please note that licensed versions are only allowed to be performed by the licensee printed on score and parts!
Customers who bought this product also bought the following products: