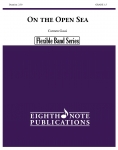 El Camino (The Road) is a Spanish march composed in the traditional style of a pasodoble. This piece is fast paced and energetic from start to finish and sounds more complicated than it seems! This is something "a little different" in the march category that will have audiences tapping their toes.
The following options can be choosen to configure this product:
Please note that licensed versions are only allowed to be performed by the licensee printed on score and parts!
Customers who bought this product also bought the following products: