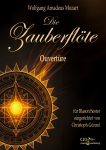 Composer:
Tschaikowski, Pjotr Iljitsch
Arranger:
Günzel, Christoph
Eine wunderschöne Zusammenstellung von 15 Titeln aus Tschaikowskis Nussknacker verpackt als musikalisches Märchen für sinfonisches Blasorchester und Erzähler:
rn
rn
1. Ouvertüre
rn
2. Tanz der Zuckerfee
rn
3. Tee - Chinesischer Tanz
rn
4. Tanz der Rohrflöten
rn
5. Mutter Gigeon und die Polichinelles
rn
6. Tarantella
rn
7. Kaffee - Arabischer Tanz
rn
8. Trepak - Russischer Tanz
rn
9. Marsch der Zinnsoldaten
rn
10. Schokolade - Spanischer Tanz (Bolero)
rn
11. Intrada
rn
12. Coda
rn
13. Blumenwalzer
rn
14. Finale
rn
15. Apotheose
rn
rn
Diese Ausgabe beinhaltet auch alle Sätze der bekannte Nussknacker-Suite
rn
Hinweis:
rn
Bei CJG music publishing erhalten Sie auch sowohl nur die Suite als auch die komplette Ballettmusik für sinfonisches Blasorchester.
The following options can be choosen to configure this product:
Please note that licensed versions are only allowed to be performed by the licensee printed on score and parts!
Customers who bought this product also bought the following products:

available | shipping in 1-3 days