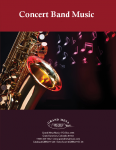 Composer:
Levowitz, Adam B.
This concert opener was written for Texas conductor Robert McElroy and the ATSSB All-Region Symphonic Band. The majestic brass opening, and rhythmic woodwind themes give each section a chance to shine. The piece also features lots of exciting percussion, a short bass clarinet solo and a extended lyric solo for horn or alto saxophone. Deep Water Bay is a small body of water on the south side of Hong Kong, China where the composer attended High School.
The following options can be choosen to configure this product:
Please note that licensed versions are only allowed to be performed by the licensee printed on score and parts!
Customers who bought this product also bought the following products: