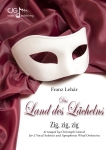 De Colores is a traditional Mexican Folk tune often performed by the famous Mariachi bands. This simple and elegant waltz has been arranged as an alto sax duet feature. The horns and low brass add harmony to the duet and the trumpets play their traditional roll in a Mariachi band which is to add color and fill gaps in the melody.
The following options can be choosen to configure this product:
Please note that licensed versions are only allowed to be performed by the licensee printed on score and parts!