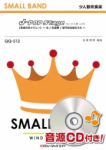 Setting:
Concert Band & Cornet (Solo)
The musical form theme and variations became popular as a cornet showpiece in the early 1900s. Simple themes or popular folk songs from a variety of cultures were used. The lyrical theme would be played, then a series of variations followed demonstrating the technical skill and virtuosity of the player. Often triple tonguing and/or range extremes were used as showoff devices. The most famous of these cornet theme and variations is the Carnival of Venice.
The following options can be choosen to configure this product:
Finish:
PDF (licensed)
printed
Please note that licensed versions are only allowed to be performed by the licensee printed on score and parts!
Customers who bought this product also bought the following products: