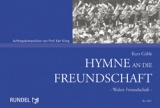 The notion of being by yourself but not feeling alone has been expressed by many and the phrase "But Not Alone" has been used in various contexts. In this case the phrase and this piece are meant to express thanks for the family, friends, and community whose support we feel even when they are not with us.
The following options can be choosen to configure this product:
Finish:
PDF (print yourself)
printed
Please note that licensed versions are only allowed to be performed by the licensee printed on score and parts!