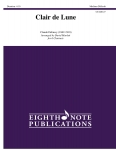 Composer:
Anderson, Leroy
Setting:
Brass Quintet & Trumpet (Solo)
This piece requires no introduction to trumpet players. The 3 trumpets form the trio with the remaining member of the quintet cover the orchestra parts. Fun to play and an audience favourite!
The following options can be choosen to configure this product:
Please note that licensed versions are only allowed to be performed by the licensee printed on score and parts!
Customers who bought this product also bought the following products: