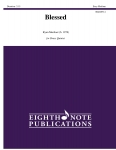 Setting:
Percussion Ensemble
Boomer Blues is exactly what the title states, a 12-bar blues composed for boomwhackers. It is a fun upbeat tune where each player requires only two boomwhackers. After a short introduction, the pieces moves into a catchy riff before finally bringing in the main melody. After going through some variations of the tune and some call and response sections, the piece brings back the riff before closing. The tune is accompanied by a swing beat kept by only maracas and a tambourine playable by one performer. This piece requires 5 players.
The following options can be choosen to configure this product:
Please note that licensed versions are only allowed to be performed by the licensee printed on score and parts!
Customers who bought this product also bought the following products: