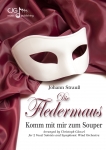 Composer:
Jan de Haan_Robert van Beringen_Eric J. Hovi_Thomas Augustine Arne
BLÄSERKLASSE GLOBUS führt junge Musiker vom Proberaum in die weite Welt: Durch alle fünf Kontinente geht es von Amerika über Europa nach Japan und nach Afrika und schließlich zu den Kängurus nach Australien. Als Souvenirs nehmen die Reisenden Eindrücke von den Klangwelten in den verschiedenen Regionen mit. Vertraute Anhaltspunkte sind bekannte Melodien, die hier und da durchklingen, wie zum Beispiel das bekannte Lied von der Brücke in Avignon. Ebenfalls werden, unter anderem mit einem Variationensatz, einer Suite und einem Medley, diverse Gattungen gestreift. Die Stücke bringen nicht nur viel Abwechslung ins Spiel, sondern sie sind auch soarrangiert, dass sie genau auf die Lernfortschritte in Band 1 und 2 von Essential Elements, der kompletten Methode für den Musikunterricht in Schulen und Blasorchestern, Bezug nehmen. Die entsprechenden Kapitel in Essential Elements sind im Inhaltsverzeichnis der Partitur angegeben. Aber auch unabhängig von Essential Elements bieten die im ansteigenden Schwierigkeitsgrad angeordneten Arrangements abwechslungsreiches Spielmaterial für Bläserklassen und Jugendblasorchester. Sind die Stücke im Unterricht erst einmal einstudiert, kann ein buntes, szenisch ausgestaltetes Konzert unter dem Motto "Weltreise" vorbereitet werden. So gehen Spielspaß, Lernerfolg, Erfolgserlebnis und daraus resultierende Motivation Hand in Hand! Sehr nützlich für das Kennenlernen und Einstudieren der Arrangements in BLÄSERKLASSE GLOBUS ist die separat erhältliche CD mit vollständigen Orchesteraufnahmen aller Stücke (Bestellnummer DHR 13-860-3).
The following options can be choosen to configure this product:
Please note that licensed versions are only allowed to be performed by the licensee printed on score and parts!
Customers who bought this product also bought the following products: