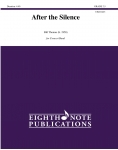 Composer:
Kaisershot, Kevin
Anubis - Egyptian God of the Dead is a tone picture for young level band describing a scene the composer saw in the movie Return of the Mummy where Anubis army of the dead is relentlessly pursuing the good guys in a desert battle. Fun rhythmic with a great world music flavor.
The following options can be choosen to configure this product:
Finish:
PDF (licensed)
printed
Please note that licensed versions are only allowed to be performed by the licensee printed on score and parts!
Customers who bought this product also bought the following products: