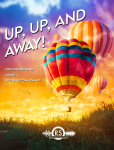 Composer:
Standridge, Randall D.
Genre:
Eröffnungswerk • Konzertstück • Weihnachten
Imagine a host of angels singing praises and flying and diving around a divine light shining bright in the sky. Such an image comes to mind when listening to this exuberant concert band work. The joyous celebration is interrupted by a powerful chorale before taking off into another dance section. Sheer musical ecstasy!
The following options can be choosen to configure this product:
PDF or Print Edition:
PDF (licensed) -2,50 EUR
Print Edition
Please note that licensed versions are only allowed to be performed by the licensee printed on score and parts!
Customers who bought this product also bought the following products: