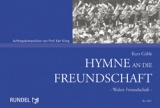 Composer:
Monk, William Henry
This beautiful hymn has been arranged to feature many sections of the band. This arrangement opens with a short introduction then proceeds through several verses. Each verse is scored differently for interest with the melody wandering throughout the ensemble. Abide With Me could be performed at many different events from religious ceremonies to concerts, and could also be used as a band warmup.
The following options can be choosen to configure this product:
Finish:
PDF (licensed)
printed
Please note that licensed versions are only allowed to be performed by the licensee printed on score and parts!
Customers who bought this product also bought the following products: