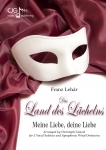 Composer:
Hartsough, Lewis
Arranger:
McKinney, Frank
Lewis T. Hartsough wrote I Hear Thy Welcome Voice in 1872 at a revival meeting in Epworth, Iowa. This lyrical setting for band explores the rich sonority available to the young concert band. The opening melody is from the dark, rich, full sound of the clarinets' chalumeau register and doubled by the baritone. As the piece slowly unfolds it offers the hymn in more and more dramatic fashion up to the glorious resolution and the final Amen.
The following options can be choosen to configure this product:
Please note that licensed versions are only allowed to be performed by the licensee printed on score and parts!